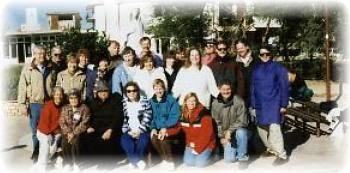 Medjugorje Web Pilgrimage

October 18 - 27 1997
Our Group Included: Ginger Allen, Mary Beth Andrews, Michael Hall-Brennan, Michael Brickner, Katherine Duggan, Eileen Ensor, Raquel Espinosa, Father Clayton N. Gould, Jerry and Ruth Johnston, John Jucas M.D., Janice Holtzman, Charles Knott, Allen Konopacki, Heriberta Marquez, William and Patricia O'Shea, Lisa Phillips, Mary Ann Phillips, Mirella Santarossa, John Scheafer, and Peter Taillac.
Pictures From Our Trip.. For anyone in our group who took pictures, please contact us and we will scan and add them to what we currently have shown...
---
Our pilgrimage started on October 18, 1997. Steve and I arrived in Chircago and met up with a little over half of our group. There were others leaving from Houston as well as Newark. The entire group then met up in Paris.
Upon arriving in Paris, we were shuttled to our Croatia Air flight which was headed for Split, with a brief refuling in Croatia's Capital of Zagreb. Once we arrived in Split, we were met by our wonderful tour guide Slavenka. We are always so happy to see Slavenka, and after a happy and warm reunion, we knew we were again in good hands. We gathered our luggage and boarded our awaiting bus for the beautiful three hour ride along the Adriatic coast. Slavenka did an excellent job welcoming our group, and telling us all about the beautiful scenery and country of Croatia as we drove to our house for the night. Slavenka would be with us for the rest of our stay in Medjugorje. The family we stay with is Jasna and Kruno Vasilj. Steve and I always stay there when we go to Medjugorje. Their home is perfectly situated behind St. James Church, about 3-5 minutes walk. It is very comfortable with excellent accomodations. We were happy to see Jasna once again, and after warm embraces, she served us a nice hot dinner. One of the many things that stand out about Medjugorje is the people. They are all so friendly and loving. It adds to the warm "at home" feeling one gets in Medjugorje.
We were anxious to get started, and first on our agenda for that morning was heading up to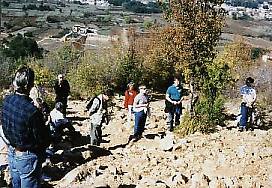 Apparition Hill. We climbed Apparition Hill (Podbrdo) and prayed the Joyful mysteries of the rosary, following the beautiful bronze stations made and donated by the Italian artist, Carmelo Puzzolo, each one representing a mystery of the rosary. We spent some quiet time in prayer at the Cross which marks the spot where our Blessed Mother appeared for the first time.
The next days in Medjugorje were busy! We did so many things. Just a few of the highlights include:
We heard talks by the visionaries Vicka, and Marija, as well as locutionist Marijana. A special event that we were very blessed, and fortunate to attend was an apparition with Marija. It took place on the 25th of the month, which is the day Marija receives Our Lady's message for the whole world. It made a deep and profound impression on all of us. It is difficult to explain in words the incredible peace, love, and presence of Our Lady that we felt at the time of the apparition.
We also heard talks by Fr. Slavko Barbaric, Father Svet, Father Pavic, and of course our trip to see Father Jozo in his parish of Siroki Brijeg which is located about 45 minutes from Medjugorje. It is always a wonderful experience to hear him speak and to see such holiness.
No visit to Medjugorje is complete without climbing Cross Mountain (Mt. Krizevac). It is a difficult climb for many, and it is amazing that virtually everyone who starts the climb, no matter what their physical condition, makes it to the top. It is a welcome site to see the 35 foot tall Cross when we finally reached the top. As we ascended, we said the Stations of the Cross, which are marked by the same beautiful bronze plaques as on Podbrdo. Our Lady has said that she prays at the foot of the Cross at 5:00am each morning. Michael, accompanied on occasion by others from our group, made the early morning climb several times to pray with Our Lady at the foot of the Cross.
The English Mass is said every day at 10am, and the Croatian program starts at 6pm. The 6pm program starts with the Joyful and Sorrowful Mysteries of the Rosary until 6:40. At 6:40pm there is 3-5 minutes of silence in recognition of the exact moment of Our Lady's appearance to the visionaries each day. The rosary then resumes and at 7pm, there is Croatian Mass, followed by the Medjugorje Rosary which consists of the 7 Our Fathers, 7 Hail Mary's and 7 Glory Be's. Finally the Glorious Mysteries of the Rosary are prayed sometimes continuing on with Adoration of the Blessed Sacrament. One might think that all this praying would be "too much". Quite the contrary is true. While you are in Medjugorje, life is very different.
Some of our group chose to go on a side tour of the City of Dubrovnik. Dubrovnik is a Medieval fortress surrounded by walls 24ft thick and 60ft high. It is an absolutely beautiful city. Unfortunately on the day we went, it poured rain for almost the entire day. Even though most everyone was soaked by the rain, everyone enjoyed Dubrovnik.
There are many other stories to tell. Everyone was touched in a special way. That is one of the graces of Medjugorje. Your heart and your life are changed forever. It is amazing to see 22 people from all areas and walks of life come together as strangers, and leave with a very special and unique bond of friendship, and love. Their spiritual lives renewed, refreshed, rekindled. The fire of the Holy Spirit burning brightly inside them. Our Lady invites each person who goes to Medjugorje individually, and for a reason. Going to Medjugorje is a special calling, and a special gift. We can't wait for next year! and with God's blessing, do it all over again!!!
Thanks to all the wonderful people who were part of our trip to Medjugorje. We will never forget any of you, and feel privilaged to have spent such a special time together.
Steve and Ana