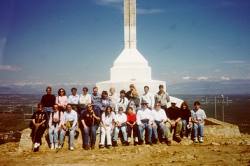 The Medjugorje Web Pilgrimage

April 3 - 12 1997
Our Group Included: John Bane, Stephen Cavallero, Philip & Lilia, John Delaney, Tom Fleming, Joey & Janel Fontana, Thomas Phillips, Anna Ganesh, Michael & Michelle Gwirtz, Jose De Jesus & Marie Hernandez, Fr. Royce Hughes, Olympio & Amelia Javidando, Carole Koukoulomatis, Mary Kovacic, Laura Maynard, Steve, Ana, Katie, and Stephen Shawl, Shareen Silva, Marijo Sweeney, Brett Willbrand, Maria Tudic.
Pictures From Our Trip.. For anyone in our group who took pictures, please contact us and we will scan and add them to what we currently have shown...
---
Our pilgrimage started on April 3, 1997 with a short flight from Chicago to JFK airport. We met up with most of our group, including our spiritual director and priest Father Royce Hughes from Texas. From JFK we embarked on our 8 hour flight to Rome.
Upon arriving in Rome we were met by our tour guide and taken to awaiting buses which took us to the Vatican and on a tour of St. Peters Cathedral. It is the largest Church in the world and incredibly beautiful. From there we had a quick trip and walk around the Coleseum, and then off to the airport to catch our flight to Dubrovnik.
Upon flying into Dubrovnik, we found ourselves caught up in a strong storm with high winds. For those who like roller coasters, it was quite a ride. It was there that we were met by our tour guide for the rest of the trip, Slavenka. Slavenka is a wonderful woman and did an excellent job welcoming us, and telling us all about the beautiful scenery and country of Croatia as we drove to our hotel for the night. Hotel Cavtat is in the little town of Cavtat, about 20 minutes from the Dubrovnik airport, where, although there was no electricity due to the storm, we had a nice dinner and managed to catch up on some badly needed sleep. Showers had to wait for all but the bravest due to lack of hot water.
In the morning we went on a wonderful tour of one of the most beautiful cities I have ever seen, Dubrovnik. It is a 24 foot thick walled Medieval city roughly 500 years old. We enjoyed an intimate Mass celebrated by Fr. Royce in Sveti Vlaho Church (St. Blaise Church), within the walls of the city. After our tour of Dubrovnik, it was time for our final 3 hour bus ride to Medjugorje!
Our bus ride went by very quickly as we enjoyed the beautiful Adriatic scenery and listened to Slavenka as she told about the different areas and people of Croatia and Bosna-Hercegovina (Tom, I hope you still remember how to pronounce it). As we neared Medjugorje, we prayed the rosary in anticipation. Finally we found ourselves on the main street of Medjugorje with the steeples of St. James Church clearly in sight.
The home we stayed in was perfectly situated behind the Church, about 3-5 minutes walk. It was very comfortable with excellent accomodations. As usual, the people were extremely friendly and we felt right at home. There was a definite electricity in the air. You could feel Our Lady's presence. We were all anxious to get settled in and get to Mass.
The next 5 days in Medjugorje were busy! We did so many things. Just a few of the highlights include:
We climbed Apparition Hill (Podbrdo) and prayed the Joyful and Sorrowful mysteries of the rosary, following the beautiful bronze stations made and donated by the Italian artist, Carmelo Puzzolo, each one representing a mystery of the rosary.
We heard talks by the visionaries Vicka, Marija, and Mirjana. A special event that we were very fortunate to attend was an apparition with Marija. It made a deep and profound impression on all those attending. It is difficult to explain in words the incredible peace, love, and presence of Our Lady that all felt at the time of the apparition. Marija told us afterwards that Our Lady prayed over each of us and gave us her blessing.
We also heard talks by Fr. Slavko Barbaric, Fr. Branimir, and of course an incredible trip to Fr. Jozo's. Each time we visit Fr. Jozo's parish in Siroki Brijeg (45 minutes from Medjugorje), it is like a new experience. Fr. Jozo makes each visiting group of pilgrims feel so special and welcome. His 2 hour + talk goes by in an instant. You find yourself deeply immersed in prayer and grace. It is always one of the highlights of any trip to Medjugorje.
We visited the site of the Blue Cross where the visionaries received apparitions with Our Lady in the early years when the communists prevented the children from seeing Our Lady on Podbrdo. It is a holy place where great graces are experienced.
No visit to Medjugorje is complete without climbing Cross Mountain (Mt. Krizevac). It is a difficult climb for many, and it is amazing that virtually everyone who starts the climb, no matter what their physical condition, makes it to the top. It is a welcome site to see the 35 foot Cross when we finally reached the top. As we ascended, we said the Stations of the Cross, which are marked by the same beautiful bronze plaques as on Podbrdo. After praying for some time, and enjoying the breathtaking scenery, we descended back down and prepared for Mass.
The English Mass is said every day at 10am, and the Croatian program starts at 6pm. The 6pm program starts with the Joyful and Sorrowful Mysteries of the Rosary until 6:40. At 6:40pm there is 3-5 minutes of silence in recognition of the exact moment of Our Lady's appearance to the visionaries each day. The rosary then resumes and at 7pm, there is Croatian Mass, followed by the Medjugorje Rosary which consists of the 7 Our Fathers, 7 Hail Mary's and 7 Glory Be's. Finally the Glorious Mysteries of the Rosary are prayed sometimes continuing on with Adoration of the Blessed Sacrament. One might think that all this praying would be "too much". Quite the contrary is true. While you are in Medjugorje, life is very different.
Many of the people in our group experienced both internal, and external "miracles". One particular story that comes to mind is the story of Brett. Brett is 16 years old and came on our trip with his uncle Tom Fleming. Brett had a rough start and after a couple of days was convinced he had made a big mistake in coming. He was talking to his uncle in their room and expressing his feeling about the trip. He told Tom he didn't want to be there, and he would never see any miracle, and even if he did, it would be wasted on a someone like him. He then walked outside and sat down in a chair on the porch at our house. Ana and I walked up minutes later and saw him staring at the sun. We were concerned and asked him if he was ok. Brett asked us to look at the sun and tell him if we saw anything. The sun was so bright we could only glance at it without turning our heads. Brett's uncle (an Opthamoligist) explained that as bright as the sun was, a person would suffer retinal damage in mere seconds. Brett stared at the sun for over 20 minutes with no sun glasses or other eye protection, all the while describing to us the colors he saw shooting from the sun, the sun spinning and the disc he saw within it. There is no possible explanation for this other than Our Lady wanting to show Brett that he was special to God, and that God knew he was there and loved him. His attitude changed completely, and he had an excellent trip!
There are many other stories to tell. Everyone was touched in a special way. That is one of the graces of Medjugorje. Your life and your heart are changed forever. It is amazing to see 28 people from all areas and walks of life come together as strangers, and leave with a very special and unique bond of friendship, and love. Their spiritual lives renewed, refreshed, rekindled. The fire of the Holy Spirit burning brightly inside them. Our Lady invites each person who goes to Medjugorje individually and for a reason. Going to Medjugorje is a special calling, and a special gift. We can't wait for next year! and with God's blessing, do it all over again!!!
Thanks to all the wonderful people who were part of our trip to Medjugorje. We will never forget any of you, and feel privilaged to have spent such a special time together.
Steve and Ana